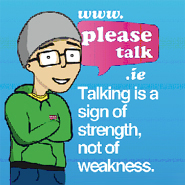 Monday, 10th September is observed as World Suicide Prevention Day. Suicide Awareness Week seeks to raise the profile of the issue of suicide nationwide.
In Ireland, more people die from suicide each year than in road deaths.   This is a frightening statistic.  "Central Statistics Office provisional data for 2010, by year of registration, shows a total of 486 deaths by suicide of which 386 were male and 100 female. This is a decrease of 41 (8%) on the record high in 2009 of 527 suicides." (Source: CSO 2010).
The issue of suicide in Ireland is of great importance, most of us will know of someone who has lost their life due to suicide. Suicide Awareness Week aims to promote positive mental health and to offer information to people on where to seek assistance.
If you are feeling suicidal:
 talk to someone you trust in the workplace. Your Manager of the HR department are there to help and to ensure that you get the support you need. Many companies offer Employee Assistance Programmes (EAP) and can put you in touch with a professional.
Your family and friends would rush to help you if you were drowning or in an accident, so tell them now if your life is in danger from suicide. There are many people who will gladly help you if you let them know you have a problem.
If you feel like talking to someone outside of your family and friends, there are many services available to help you. You could talk to the  Samaritans on  18 50 60 90 90, 1 life Freephone (24hrs) 1800 247 100 or text the word HELP to 51444 or contact Pieta House
You can also call your local doctor, or your psychologist or psychiatrist if you have one. They often have an emergency number for out of hours emergencies.